Personalized bridesmaid ornaments are a EB Ornaments specialty and definitely something you should consider for a unique, personal bridesmaid gift. We also create Mother of the Bride ornaments to match or singly. If you're curious about our process in making a bridesmaid ornament, check out our Diary of a Custom Bridesmaid Ornament.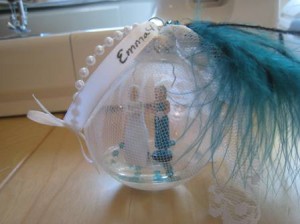 Ornaments are made to order, please be sure to check out our portfolio for the quickest route in ordering. We work with you to make sure that you're getting the perfect gift. We use high quality materials like Swarovski crystals, chantilly lace, satin, tulle, resin, real feathers, ribbon and hand painted brides and bridesmaids in the style of your real life dresses, hair color and features.
The more information you can provide us (like web links to dresses or wedding colors/themes) the more personalized we can make your ornaments and the fewer rounds of prototypes we have to go through. Each ornament is shipped in a gift box and includes a ribbon hanger option of your choice.
How much are they?
That depends on the materials you elect, the number of features to be included and the number of ornaments. At minimum a mother of the bride ornament is $20 and can run up to $40- which would include 3 rounds of prototypes and all the materials of crystals, lace, feathers, etc;
How long does it take?
A single ornament can have a turnaround as little as 4 days, which is the minimum needed. Sets of 4 or more- allow for 2 weeks at minimum. If you have an idea of what you want- that makes it go even faster.
Bridesmaid Ornament Portfolio


Get your own quote for a custom unique ornament- email: ebornaments@gmail.com