Diary of a Custom Bridesmaid Ornament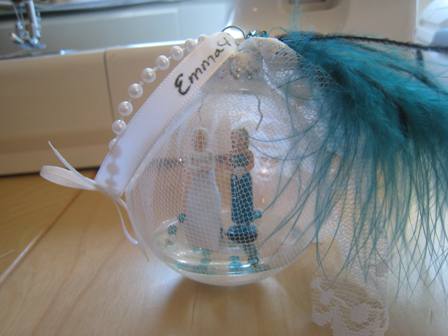 From an inquiring email to 4 bridesmaid ornaments and 1 mother of the bride ornament.
Emma has a tradition in her family- unique Christmas ornaments to give as a gift each year. So naturally when she got engaged and selected her sisters as her bridesmaids, the bridesmaid's gift choice was obvious: custom ornaments to remember the special occasion by. Having found EB Ornaments online while searching for unique ornaments she found just what she was looking for- custom colors, design, the ultimate in custom Christmas ornaments.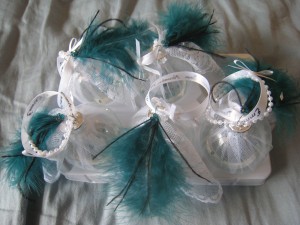 First off, EB Ornaments got an idea for the color schemes and what drew Emma to EB Ornament's designs in the first place. Turns out it was the Blue Puffer Fish and the tiny aquarium type ornaments. Once a style and color scheme had been decided over several emails, EB Ornaments got to work.
A clear resin base tinted with a blend of peacock, green and blue glitter came out first and was quickly discarded, along with the use of real peacock feathers.
But the idea of a tiny bride and tiny bridesmaid in the center of the ornament was decided upon as a for sure. The tiny bride was given a real cloth skirt and the bridesmaids went through a couple of variations of teal/peacock blue paint swatches.
Each bridesmaid had their hair painted to match the girl it was intended for and one very special one was created for the mother of the bride in a shade darker and a tiny bolero jacket.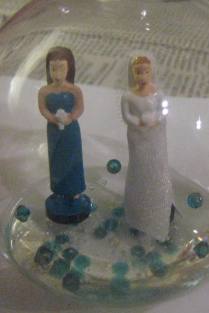 EB Ornaments then got to experimenting with Swarovski crystals and found that suspended blue zircon and silver shade crystals in resin was the way to go for the base for the ladies to stand upon.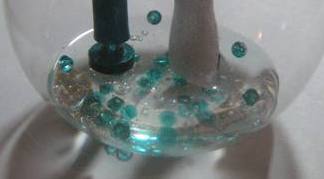 The bridesmaids were going to wear atop their heads a small feather and netting hats in teal and black. So EB Ornaments tried to incorporate that into the ornaments themselves.
Since the bride had expressed a liking towards feathers and lace, EB Ornaments then fastened together teal feathers and black ostrich feathers with some chantilly lace to create a small veil like look a top the ornament.
The bride loved it! But it was missing something yet. Having recalled a Victorian style ornament from years ago, the bride sent a photo of the ornament to EB Ornaments who then figured out how to incorporate a tulle covering.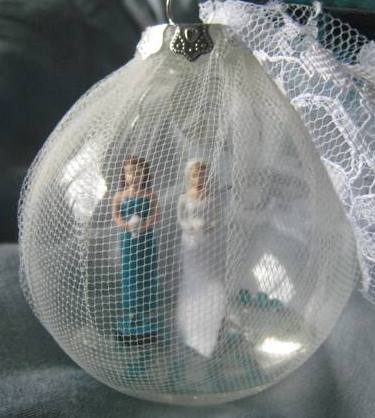 Almost finished now! An ornaments must hang off of something after all though. So it was determined that a white ribbon intertwined with a string of pearls would finish off the elegant look with a small bit of personalization on the ribbon.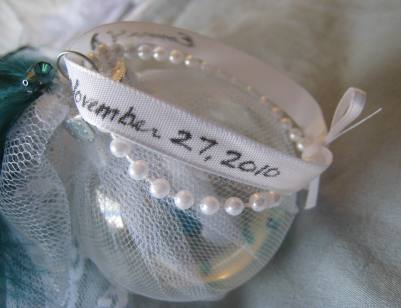 The bride and groom's names plus the wedding date proved to be the finishing touch.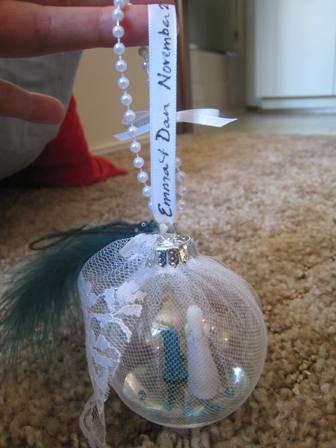 Each ornament was then packed in a gift box and shipped off to a very happy bride!
From the bride:
Elizabeth has created the most beautiful ornaments I could have ever hoped for. While working to create wedding ornaments for my bridesmaids gifts she listened and was very careful to understand my input and vision. She was patient with my ideas which were often changing, and took her time to make sure she interpreted them perfectly. When something was missing she put her creativity to the test and came up with the most fitting and amazing solutions. I honestly couldn't be happier with the ornaments, or with the service I received. I have already recommended EB Ornaments to everyone I know, and will continue to drop her name whenever someone is in need of the most beautifully crafted, unique, and stunning ornaments.
Get your own quote for a custom unique ornament- email: ebornaments@gmail.com and checkout our Bridesmaid Ornament portfolio!