Create this simple and cute unique ornament at home for Halloween this year. Do a group of 6 all with different faces and string them on a "vine" across a window for a fun sparkly look.
Materials:
1- blank glass or paper mache ornament 67mm size
fine or super fine bright orange glitter
super fine green glitter or glitter blend
2- silk green leaves (look in the wedding favor aisle for these)
black acrylic paint
brown acrylic paint
Aleene's Tacky Glue
Deco Art Sealant or Mod Podge

Apply glue liberally to ornament with brush.
Pour glitter generously over ornament, patting glitter down, spreading it and shaking off the excess.

Apply glue liberally to the silk leaves and shake on green glitter and let dry, shaking off excess.

Let glue dry- overnight is best.
Seal glitter onto ornament with sealant or Mod Podge and let dry.
Seal glitter onto leaves with sealant or Mod Podge and let dry.
Using a small brush and the black acrylic paint, outline the jack o' lantern's face and fill in with paint.

Once that is dry, paint the cap of the ornament (if there is one) with the brown acrylic paint.
Twist the leaves around the wire hanger, letting the extra stem stick out. If using the paper mache version, skip to next step.
Using the handle of a paint brush, twist the stems around it, making it a curly vine, just like on a real pumpkin.

Glue the leaves down with a dab of hot glue to the cap or top of the ornament so that they stay in place.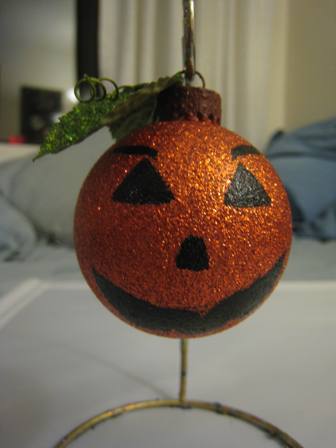 Repeat with several faces and you'll have a window or spooky tree that even Martha would be jealous of.