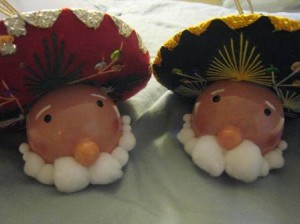 If you are looking for a new idea for a holiday get together this year, try a Mexican themed Christmas. It can be as simple as serving margaritas, chips and salsa, and quesadillas. Include the Mexican Santa ornament and red, green, and white lights on the tree for to represent the Mexican flag and a Mexican blanket or poncho underneath to continue the theme.

If you are looking for more authentic additions to your fiesta decorate with poinsettias and a nativity scene. The nativity scene (Nacimiento) is central to a Mexican Christmas celebration, it is more universal than the Christmas tree. Ponsettias are native to Mexico and very common Christmas decorations.
The "Glennis" poinsettia ornament is another nice addition to your tree to compliment the theme.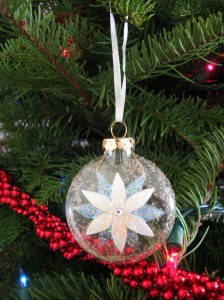 Another addition is the "Rosca de Reyes," a bread wreath made with dried fruit and sugar. Baked inside is a representation of the Baby Jesus; whoever gets the figurine is supposed to throw a party and make the tamales and atole (a traditional hot drink).
If you are feeling adventurous hang a paper "piñata" filled with candies. The design of piñatas during Christmas is traditionally in the shape of the Star of Bethlehem. A final touch, have your guests leave their shoes outside or near a window and leave a small gift inside them. Traditionally on January 6th (King's Day), children leave their shoes near a window or outside for the three kings to deliver presents. A Mexican Christmas celebration is a time for joy and family. Try including some or all of these many traditions to spice up your holiday festivities!