Create your own unique Valentine's ornament for your sweetie! Even if it's just one to adorn a door or window or a dozen to drape on a small tree or chandelier, these super easy ornaments are a great way to make your Valentine's Day special! Even if you can't find heart shaped ribbon or an "XOXO" button, there is plenty of inspiration waiting for you at your local craft store.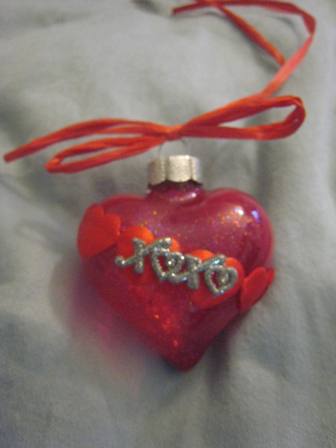 You need:
1- clear glass heart shaped ornament
1/4 yd heart shaped ribbon
1- XOXO button with the loop cut off or button of similar size and shape
Deco Art Holiday Red Glitter paint
Red raffia ribbon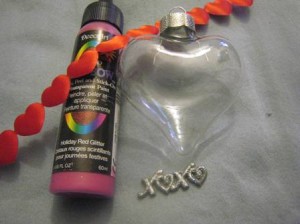 Pour paint into the heart ornament and tilt from side to side to coat inside completely. Hang upside down over newspaper overnight so that excess paint can drain out.

Once the paint is dry, heat up your glue gun and place the cap back into the top of the ornament.
Take the heart ribbon and glue two hearts down and hold in place until glue hardens.

Keep applying glue to the back of the ribbon hearts until the ribbon wraps all the way around and is securely in place.

Apply glue to the back of the button or XOXO piece and press firmly to the heart ribbon. Don't use too much glue or it'll gush out all over.

Fold the red raffia ribbon in half, thread through the ornament wire and tie into a bow to create a 4 loop effect.
That's it! You're all done!